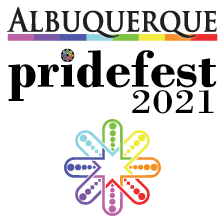 Friday, August 20 and
Saturday, August 21
Dance – Music – Friendship
Expression – Fun – Diversity!
Fri, Aug 20 @ 6pm | Free Friday PrideFest at Expo New Mexico
Sat, Aug 21 @ 10am | Main Event PrideFest at Expo New Mexico
Sat, Aug 21 @ 10am | Pride Parade on Central Ave in Nob Hill
ALBUQUERQUE, NM – Albuquerque Pride is pleased to announce the 44th annual PrideFest celebrating the LGBTIQ community in New Mexico.
Info: 505-873-8084 or [email protected]
Albuquerque Pride Inc. has worked hard to make the parade fun, safe and enjoyable for all. From safety rules for the floats, encouragement to make the floats POP and a plan for clean up after the parade, it is sure to be an event to remember! We have floats, classic cars, motorcycles, horses, dancers and lots of excitement in the 2nd largest parade in New Mexico.
The Celebration continues with our main event at Expo NM. Albuquerque Pride is excited to bring dance, music, expression, fun and diversity to PrideFest 2021. This annual event is expected to draw a crowd of 7,000 and bring people from all over the Southwest.
In addition to our New Mexico Pride Titleholders, ABQ Pride will bring many local and national talents to the Unicorn and Rainbow stages.
There is fun around every corner!